Last week, we released a new visualization feature in Zeitview Property Insights: digital surface modeling. While this feature can be applied in several ways, it's all about preventing or mitigating water damage.
If you own, manage, insure or work on commercial buildings, you already know that water is one of the most costly causes of property damage, with annual incurred loss amounts in the United States alone equal to $500 million, based on ISO data from 2021. In a recent study, the U.S. Environmental Protection Agency found that 85 percent of surveyed buildings had experienced water damage in the past, and 45 percent were experiencing ongoing problems with leaks causing water damage.
Water is a big problem, but a little knowledge can go a long way toward preventing damage.
The new digital surface model layer helps our customers understand, manage and prevent water damage in a few different ways.

Speeding up the underwriting and claims processes
Zeitview Property Insights can be used in conjunction with FEMA flood zone data. Customers can review FEMA for flood elevation data, and then review a specific site for its elevation range. This empowers owners and maintenance teams to quickly triage the properties that will be most affected in advance of a coming storm. But long before a storm, this is valuable information for insurers. During the underwriting process, they can see how affected a given property would be in the event of a flood. After a flood occurs, claims agents can use this information to speed up the process and field claims efficiently.

Preventing water ponding on roofs
By understanding the way a roof slopes, roofers and maintenance pros can make sure water drains appropriately. This prevents ponding and ingress of water via the roof — one of the most problematic sources of water damage.

Keeping walkways and parking lots clear
But it's not just about roofs. By understanding the way walkways and pavements slope, landscapers and facilities managers can proactively divert water on the ground, too. This can be used to prevent puddles in high-traffic areas. It can also be used to site accessible parking spots in areas where they won't become inundated during the rainy season. A newer use case for this age-old issue is electric vehicle charging stations; the digital surface model layer can help you recommend good locations and rule out flood prone spots.

How to use digital surface models in Property Insights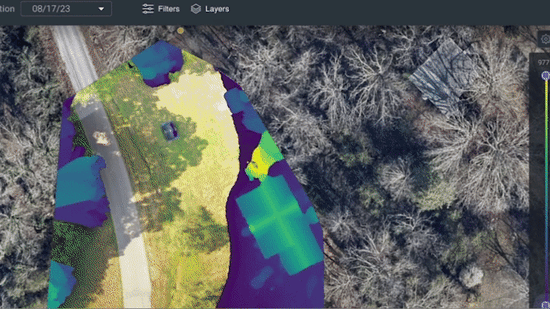 Digital surface models provide a visual layer where each pixel represents elevation data for that location. It represents the property's surface, including natural components such as vegetation, and built structures like parking lots and buildings. If toggled on, the digital surface model layer will be overlaid onto the orthomosaic image within an inspection.
Users can adjust the minimum and maximum elevations by adjusting the slider; this allows customers to focus on a specific elevation range. For example, the digital surface model will cover the ground and building, but if the user wants to focus only on the pavement they can simply reduce the elevation slider to encompass the elevations of interest.

This is just one of many useful features in Zeitview Property Insights that help our customers optimize maintenance for the properties they own, manage or insure. Want to learn more? Join our webinar on managing distributed facilities on November 15!