In our previous Pilot Spotlight, we introduced you to Mike Reilly, one of our first pilots to graduate from the FLIR Infrared Training Center. Mike shared information about his experience at ITC, Thermal Missions, and other insights into being a drone pilot. In this article, we want to shine the light on another certified thermographer and pilot of ours: Chris Hilton.
Chris Hilton is a US Navy veteran with a science background, and has been flying DroneBase Missions for over two years. He started flying as a hobby in 2011 and soon saw the potential sUAS could offer to a variety of business applications. Here's more from Chris:
---
Soon after the Part 107 certification became available, I took an online course, studied, and tested into the professional ranks. While I was happy about the achievement, I was left asking myself, "How do I acquire clients?" That's where DroneBase came in and helped me take the first steps from newly minted Part 107 pilot to a more savvy professional operator.
While real estate and insurance work can be fun, I had other ideas.
My professional work history and education is based in analytical chemistry and sensor development, so the first thoughtful application that came to me was doing chemical sensing from a sUAS. The value of chemical determinations is much higher when you can deliver the results in the field, in real time, to the people that benefit from it the most. This concept has pushed me to think about what chemical sensors and what methods are most adaptable to sUAS technology and can deliver value to end users in the field.
The most developed sensors for sUAS are optical ones. RGB cameras, IR cameras, and hyperspectral cameras are just a few examples. When FLIR and DroneBase teamed up, I knew something great was about to happen. When the announcement was made that FLIR and DroneBase were working together to get pilots training on using thermal cameras deployed on sUAS with the intention of moving into the thermal markets, I jumped at the idea. And the best part was that for the first 100 US Veterans, the course would be taken care of by DroneBase! I applied and was accepted the day of the press release.
The course I signed on for was held at RMUS in Salt Lake City, Utah. It was a great location with knowledgeable staff and a good training area. Our instructor Dave Lee was exceptional. He really made the course interesting and interactive blending the technical background with practical knowledge from the field.
My science background made the technical topics easier, but the real value in the course was all the practical knowledge that Dave passed onto us about the operation of thermal cameras from a sUAS. Overall, I learned a lot, had a lot of fun, and made some great connections. I would strongly recommend this course to any Part 107 pilot that wants to move into one of the many vertical markets based on thermography.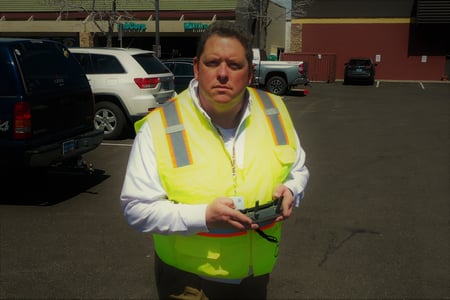 I'm very excited to see Thermal Missions come to DroneBase and get into the air with my new skill set. I believe there are so many opportunities in the near future for this vertical, and I've prioritized my business to acquire the hardware as opportunities present and funding becomes available. The hardware is a real cost for a small business but I can certainly see the potential ROI based on my initial research.
For my future plans, this course is the first step towards optical gas imaging. Chemical sensing from sUAS is still on my radar and now thanks to DroneBase and FLIR, I'm one step closer to making it a reality.
I'd like to thank both FLIR and DroneBase for the opportunity to complete the class and gain this certification.
---
Interested in learning more about getting certified in aerial thermography? Check out the FLIR ITC page to get more information and receive a discount on registration as a DroneBase pilot.