This or that, but not both; "The tyranny of the 'Or'". Why can't we do both? In the case of Manned Aircraft vs Drones, not only can you do both, but in almost all cases you should. It's simply about cost optimization.

According to SEIA (Solar Energy Industries Association), the US installed 5.4 GW of solar capacity in Q3 of 2021 to reach a total installed capacity of 113.5 GW. Despite supply chain headwinds, growth for 2022 is still expected to exceed 20GW. With this massive growth comes new challenges. In an industry moving as quickly as solar, automation to drive operational efficiencies is a top priority. Novel inspection methods are being developed and utilized to increase efficiency while delivering improved results and systems of record. UAVs or Drones are a great example of a new tool used to inspect solar assets at an ever-increasing rate. Equipped with thermal sensors, drones can inspect solar facilities in a fraction of the time that it takes "boots on the ground" methods to complete the same inspection.
A Complete Thermal Inspection Toolbox
But it's essential to use the right tool for the right problem, which is why the concept of integrated flight operations - using both UAVs and manned aircraft - is so critical to the DroneBase approach. A UAV can handle about 20MW per day per person for on-demand thermal inspections or spot checks. Manned aircraft, however, can capture over 500MW in a 4 hour period. UAVs would take about 3 man-weeks to accomplish the same task. So manned aircraft are ideal for annual health checks of large-scale assets or distributed portfolios because it is simply the most cost-effective way to do so. This approach to data capture yields the optimal price for a portfolio-wide thermal inspection strategy. It enables asset owners and O&M teams to shorten inspection timelines, and ultimately streamline corrective maintenance.
For all but the very largest of organizations, procuring manned aircraft equipped with the proper imaging sensors isn't feasible. To make this method of thermal inspections more accessible, DroneBase created the North American Solar Scan 2022 (NASS '22).
What is NASS '22?
Leveraging manned aircraft for solar energy system inspections, the North American Solar Scan (NASS) is a set of scheduled flights in Spring and Fall across North America through every major solar market in the US and Canada. NASS '22 simplifies operations, generating highly accurate, cost-effective thermal inspection reports. The process is notable for its simplicity; clients provide DroneBase a list of their solar assets - we then fly over them with thermally equipped manned aircraft and return to them a set of actionable reports via our market-leading Solar Insights platform.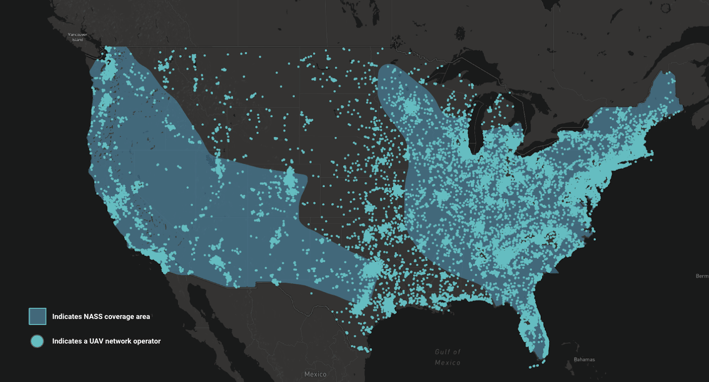 Illustration of DroneBase North American Solar Scan '22
You can think of this as a bus route; asset owners with projects within or near the NASS '22 flight corridor have a cost-effective means for thermal inspections. But if some of those assets are not within or close to the corridor, it makes very little sense to send a manned aircraft 1000 miles to conduct a scan. In this case, a local UAV operator, available on-demand, would be more efficient. So clients can use their own crews, or one of DroneBase's 90,000 operators, to capture data via UAV for processing in the Solar Insights platform. This type of cost optimization, using either manned aircraft or UAVs where appropriate, provides clients with the lowest average cost per thermal analysis.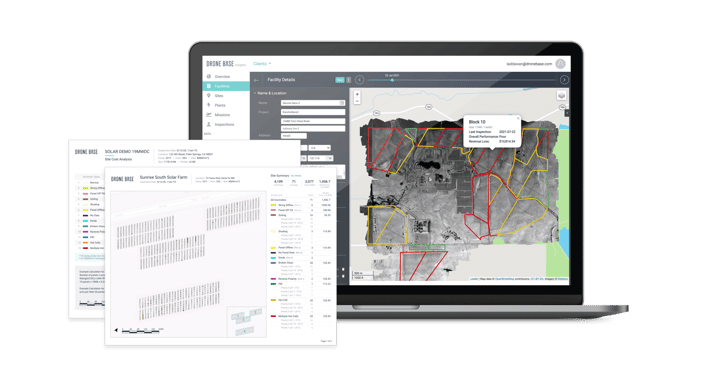 In either case, reports are delivered via our Solar Insights platform, surfacing true cost-per-anomaly information, making it easier to ensure O&M teams are prioritizing high-impact repairs.
"DroneBase has been instrumental in helping us scale solar asset and inspection across North America. Their ability to provide 100 percent aerial coverage by using drones and manned aircraft gives them a tremendous competitive advantage. We look forward to growing our partnership with DroneBase as our portfolio grows."
- Jamie Mordarski, Director of Operations & Maintenance, Americas at SMA
Integrated Flight Operations - A scalable approach
By the end of 2022, DroneBase will have an inspection throughput capacity in excess of 80GW. And with the recent acquisition of India-based AirProbe, a leader in drone inspections of solar energy systems and AI-enabled analytics, DroneBase further expands its offerings. New capabilities include construction progress monitoring, serial ID mapping, and advanced shade analysis.
As solar business's search for efficiencies at the precipice of this ongoing massive expansion, ending the "Tyranny of the or" has to be front of mind. DroneBase is committed to developing cost-effective, easy-to-use solutions that operate at the scale of the industry. Through the use of both UAVs and manned aircraft, organizations operating, managing or maintaining solar assets have the optimal tool for the problem at hand. Use UAV-based inspections for on-demand spot checks by field technicians or at locations where manned aircraft either aren't suited or aren't available. For larger projects in North America, keep inspection operations simple by tapping into our NASS '22 program. There is no one-size-fits-all solution to thermal inspections. By bringing together both UAV and manned aircraft, we enable clients to optimize costs while serving the growing market. If you have large projects and want to scale operations across your portfolio DroneBase, click here to see if your systems are on the flight paths for NASS '22.
To learn more about our integrated aerial inspection solutions, visit our solar industries page.