With a network of thousands of Pilots across the world, it should come as no surprise that many of our Pilots also run their own drone business operations. Joe Kotrady is one such example: a skilled, professional pilot who is serious about flying.
A DroneBase Pilot since 2016 and a drone operator since 2014, Joe obtained his Part 107 within the second week that the test was available for taking. His lifelong love for aircrafts grew from a childhood hobby to a full-time endeavor, which ultimately led to the creation of his company, Skyview Investigative Consultants. There, he and his team leverage drone technology to service the investigative sector.
Today, Joe uses DroneBase Missions as a way to supplement his income - a mutually beneficial opportunity. Joe gets to make money doing something he loves, and we're able to offer our customers excellent service by way of another highly-skilled drone operator.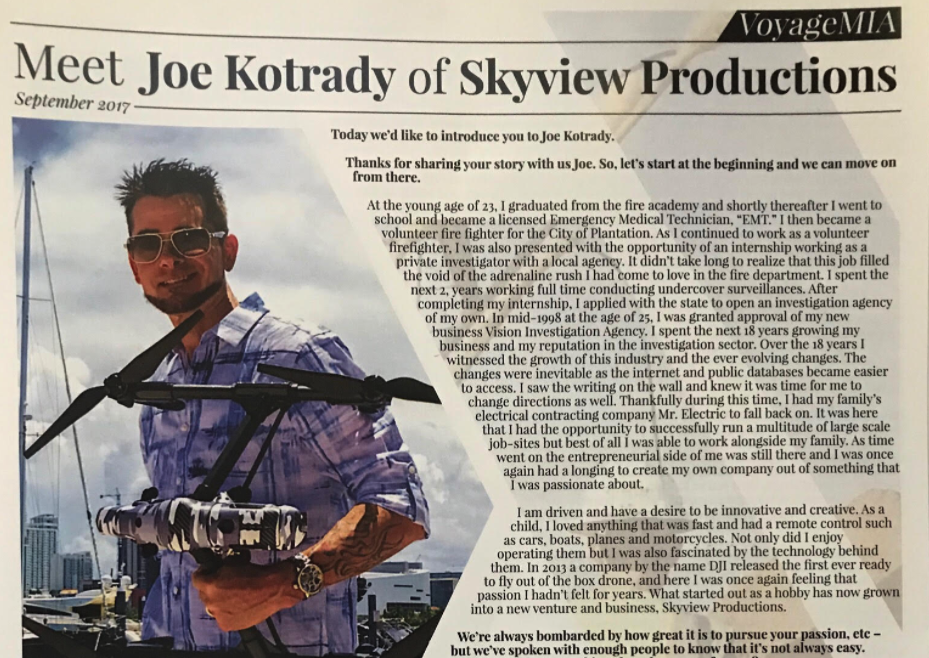 We asked Joe to share his feelings on his experience with DroneBase.
"It has been such an honor flying for DroneBase.
I honestly feel that being a DB pilot is a must for new drone businesses. When I opened my drone business, as many know, it's extremely difficult to make that transition from being a part-time to full-time pilot. DroneBase has given me the opportunity to assist in filling my schedule on the days when finding work was scarce."
During Hurricane season in 2017, Joe was dispatched for our Insurance Missions, to survey roof damage caused by the natural disasters. He was willing to fly these Client Missions despite not having power himself - a mark of his dedication and integrity as a Pilot.
"I found much pride in participating in Insurance Missions inspection efforts after Hurricane Irma. During that point in time, it wasn't about the money but simply an honor and doing what was right to help other in a time of need.
This by far was my most challenging time while flying for DroneBase. I flew for several weeks while my home was still without power and internet service. My evenings were spent at a local coffee shop that thankfully never lost power or internet service. It was there that I spent numerous hours simply to upload my Insurance Mission images to DroneBase."
It takes a skilled, trained Pilot to fly our Insurance Missions. Joe shared his ideas about the qualities such a Pilot should possess.
"Being able to fly Insurance related missions in my opinion takes a special type of pilot. Anyone can go out and launch a drone and shoot random photos outlined from a shot list.
However, I feel during this particular time its not only about paying close attention to the details, but most importantly you have to be able to put yourself in the shoes of the homeowner, while taking into consideration what they are going through. While sticking to how these missions are structured and successfully completing what's expected there is still more that's needed to insure the success of these missions.
Being professional and knowing how to conduct yourself in a time of chaos is important to insure the growth of our industry."
---
If you're interested in learning more about Joe, click here to visit his website.
If you're interested in leveraging DroneBase's network of skilled pilots for your drone surveying and insurance inspection needs, get in touch with us today! A member of our team would be happy to discuss your options.