DroneBase recently launched a new automated drone data-capture workflow for Property Insights users, improving workflows for our customers' in-house pilots and standardizing data capture and analysis across organizations.

Until now, DroneBase customers have relied on our global network of 90,000+ expert drone pilots to conduct aerial inspections. We know that our pilot network will always be central for many of our customers, especially in renewable energy. But we've heard from many of our customers in insurance, construction, roofing, and real estate who want to use their own in-house drone pilots. We wanted to give them the ability to fly their own inspections as they need, while still benefiting from the actionable insights achieved through DroneBase's market-leading intelligent imagery.

This new functionality provides automated drone inspections for organizations with their own in-house pilots and aerial data collection programs. The DroneBase Property Insights platform allows customers to decide the appropriate capture and analysis method for each inspection. With this truly end-to-end drone-based inspection solution, users can now fly their own drones and perform their own analysis on a property inspection — or increase velocity of data capture using in-house pilots, while DroneBase analysts take care of the analysis.

Customers now have the option to plan and capture property data using commercially available drones. Drone-inspection data can be delivered to your team of analysts; or you can request our seasoned analysts to provide a preliminary report for your review, finalization, and export. These options create the ability to accelerate operations with a hybrid approach with our pilot network and analysts or take the entire process in-house.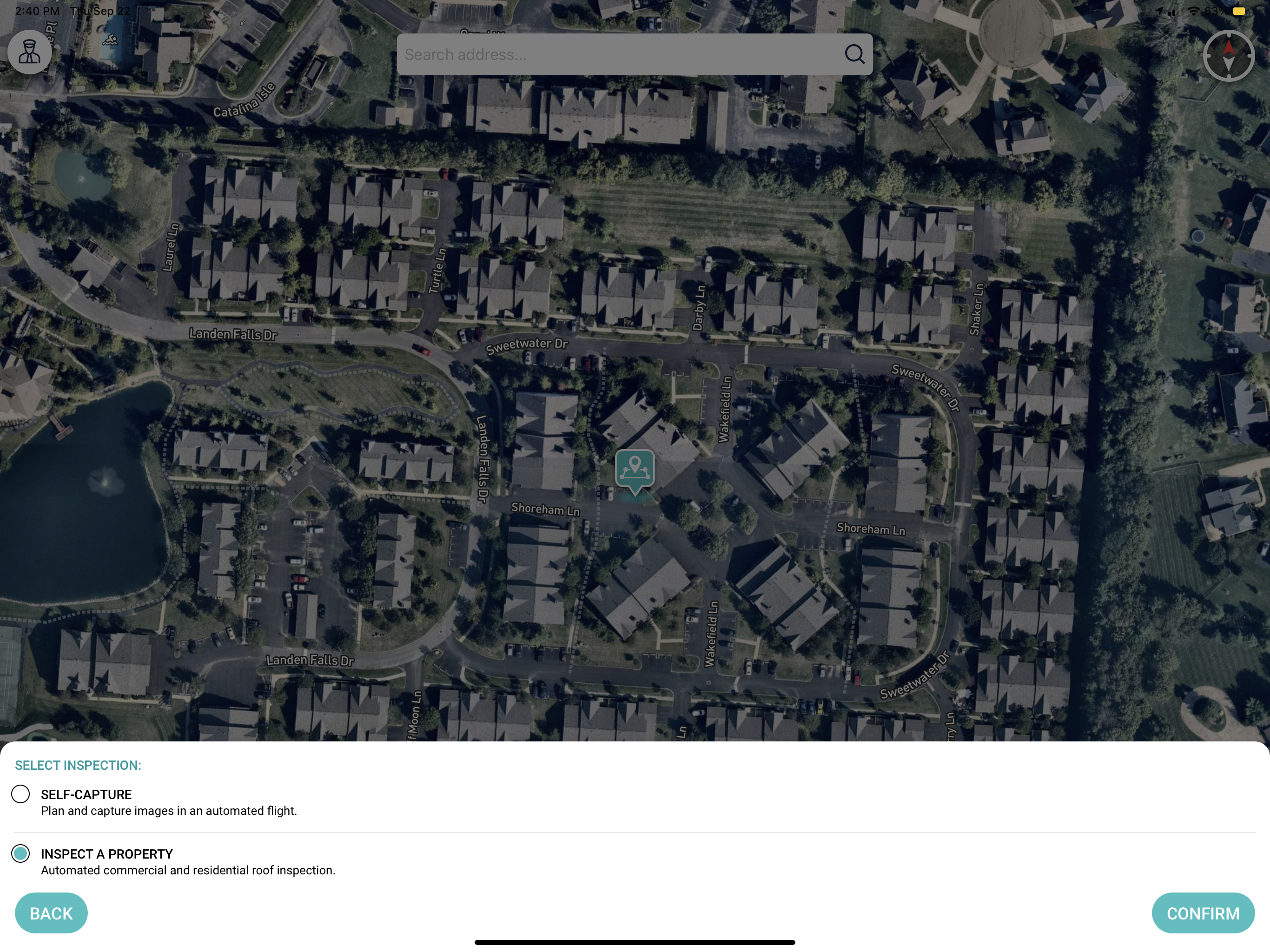 How to capture inspection data in DroneBase Property Insights mobile application
Our users have expressed wanting more control, while also ensuring data capture is standardized and objective across property inspections, and we listened. Any user who is a designated Pilot has the ability to use the DroneBase Pilot application to capture property data using automated and/or manual flight options.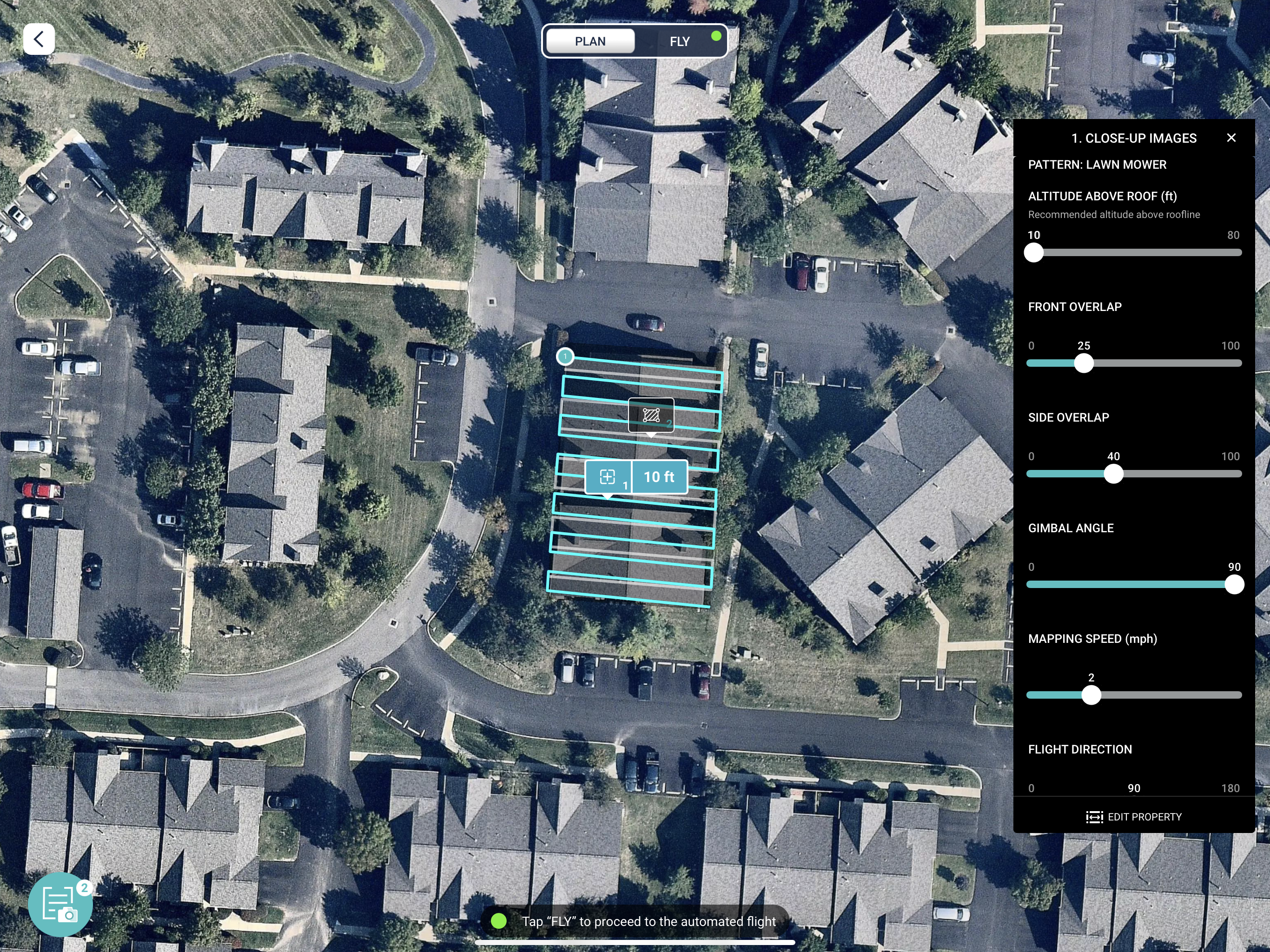 Customers can still order a DroneBase-captured flight and condition report if they prefer our pilots to capture the property data and our analysts to manage the reviews and markups. If not, eligible users can capture the data, review and mark up images as soon as they are available. After a user creates a self-capture inspection, the inspection and its details can be found inside the DroneBase Pilot application.

Data captured using our DroneBase Pilot application can be easily uploaded for processing directly through the mobile application, or using our web upload client.
Reviewing, and analyzing inspection details in DroneBase Property Insights


Users can start reviewing inspection imagery as soon as the data is processed and its status has progressed to "Analysis"--or "Review". Once the data is complete users can begin to review the imagery and annotate anomalies with easy to use and highly detailed fields, helping to quickly complete inspections and generate high quality .pdf reports of the findings.

Even when using DroneBase analysts to perform the initial markup, users can still add or edit annotations on inspection imagery using a list of predefined anomaly types, hazard statements and recommendations as well as share the final inspection report.

By bringing together structured automated data capture, with our Property Insights platform users across the property management, real estate, insurance, and construction industry now have all the tools at their fingertips to manage and execute internal drone operations and inspections, while making it easier than ever to drive on-the-ground action with intelligent imagery.

See it in action! Schedule a demo.