Frequent detailed inspections and maintenance are key in ensuring wind turbines are fully operational – although this can often be 'easier said than done' for many wind turbine owners and operations and maintenance (O&M) firms.
In this article, drone and aerial data management experts DroneBase, take a look at the common pitfalls in traditional wind turbine inspections; how to spot the most crucial or dangerous wind turbine defects; and how modern technology is helping to streamline the process by enabling 'smart maintenance'.
Europe is currently in the firm grip of an unprecedented energy crisis. According to a recent article by Business Insider, European energy prices now trading 1,000% higher than levels seen during the previous decade.
With continued price volatility and uncertainty on the horizon, renewable energy sources are playing an ever-increasingly important part in easing urgent energy demands. This is evidenced in a recent report by WindEurope, where wind power alone accounted for 15% of all EU electricity generated during 2021.
In this same report, WindEurope forecasted Europe reaching 343 GW of total installed wind power capacity by the end of 2026 – a 45% increase on current capacity.
Despite this optimism however, recent catastrophic failures affecting wind turbines – such as an airborne blade in the US, and a turbine fire in the UK – have cast a negative spotlight on the current maintenance processes for many wind turbine owners and O&M firms.
But how can we avoid these types of incidents?
Frequent detailed inspections and maintenance are key.
Why it's important to regularly inspect wind turbines
Although highly dependent on several factors, once installed, modern wind turbines are expected to last for approximately 20 years.
Aside from the obvious benefit of avoiding potentially catastrophic failures, regular inspections, monitoring, and preventative maintenance help ensure the longest life possible for the turbine.
Without these frequent inspections, wind turbines can also suffer from a variety of overlooked threats which can lead to performance issues –for example, a study by Sandia National Labs shows that leading-edge erosion can reduce energy production by up to 5%.
How often should wind turbines be inspected?
For wind turbines to function at peak operational capacity throughout their lifetime, equipment such as generators, gearboxes, main bearings, etc. may need to be inspected two to three times per year.
As well as this, other components such as turbine blades and the nacelle should be inspected at multiple stages across their lifespan – from manufacturing and assembly, to assessing performance in the field, damage investigations, and end-of-warranty checks.
These kinds of detailed inspections are essential in identifying defects that could lead to catastrophic failure, taking the wind turbine offline for an extended period of time.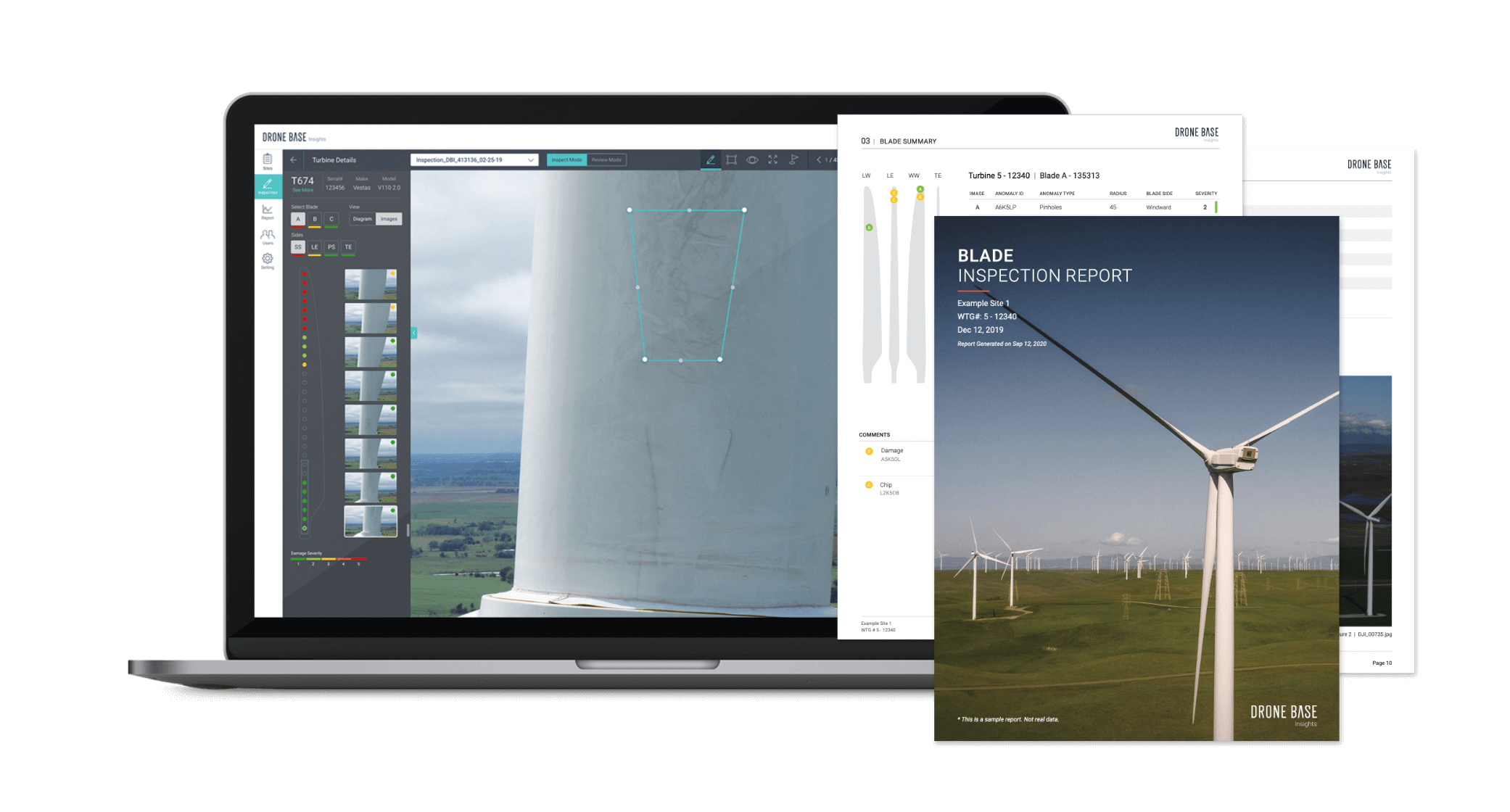 What are the most crucial or dangerous wind turbine defects?
Although many traditional inspections focus on identifying mechanical failures in turbine components, surface defects, should also never be overlooked.
That's why it's important to frequently check wind turbines for common issues such as:
Leading edge erosion

Lighting strike damage
Impact damage

Debonding

Delamination

Longitudinal or transverse cracking

Dry fibres

Topcoat damage
By identifying these issues before they have the chance to get worse, it's possible to avoid potentially more costly and significant repairs further down the line.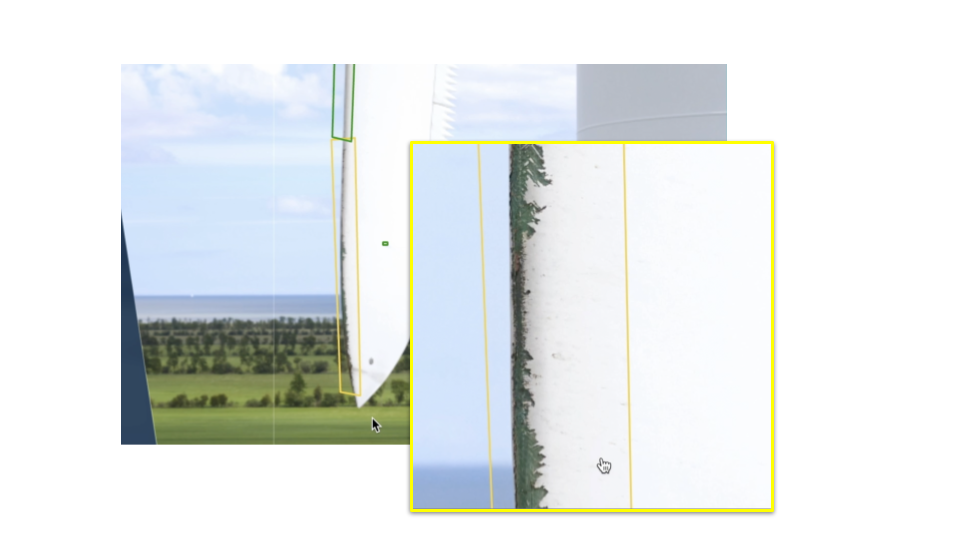 What are the challenges of traditional inspections?
Traditionally, wind turbine inspection crews relied on simple tools to get a closer look at turbines: binoculars, rope access inspections, and high-definition handheld or ground-based cameras.
These approaches have their drawbacks, however, often proving to be dangerous, sometimes even deadly. Each turbine worksite is different, usually presenting a variety of risks to engineers and technicians.
Aside from the risks to human life, manual asset inspections also pose other challenges and problems for wind turbine owners and O&M firms:
Manual inspections are time-consuming and limited
Manual inspections can produce a lot of complex data which can be time-consuming to manipulate. Due to the size of some wind plants and wind farms though, sifting through this data can be time-consuming and, as a result, simply not viable at scale.
Consequently, this limited data fails to paint a full picture of a turbine's current state – opening up the risk for increased downtime, or at worst, catastrophic failure.
High cost of running and inspecting assets
Although many turbine OEMs perform inspections for their clients, many O&M firms and wind turbine owners choose to handle inspection and maintenance on their own – though often not knowing where to focus their maintenance efforts.
Poor inspection processes, as well as not identifying the issues soon enough, can increase expenditure in lost energy, fixing / replacing broken components, and downtime.
Operational issues from inaccurate data
Data collection from manual wind turbine inspections can produce a considerable amount of 'unstructured' data. As well as that, with so many complex steps as part of the manual inspection process, there's also an added risk that it can be inaccurate – though customers may not realise this until they move off-site.
With inspection data normally coming from various sources – such as technicians and various methodologies/collection mediums (apps, cameras, paper forms, smartphones, etc.) – organisations must aim to control the data input in order to produce quality data output.
Failing to do this properly can result in poor-quality inspections – sometimes leading to even costlier end results.
How to streamline the wind turbine inspection process
With wind power now playing an important part in Europe's immediate need for clean energy – as well as in reaching 2030 energy and climate targets – it's crucial that wind turbines are running at peak operational capacity.
Drones offer a dynamic, safe, and efficient way to inspect a wind turbine's vital components and increase the accuracy of the data. Combine dynamic data collection with a tool that can analyze at scale, providing accurate and actionable insights, and you have a transformational business tool.
Using our own DroneBase aerial solutions, we help wind turbine owners and O&M firms to achieve more effective asset management; ensure workers are safe by keeping their boots on the ground; get fast fixes for damaged assets; and lower the cost of inspections.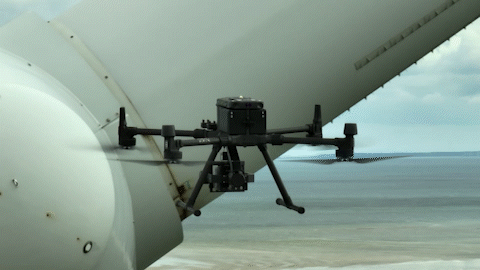 High-quality aerial imagery, data, processing, and reporting
Already trusted by the largest enterprises in the world – among them some of the largest wind turbine OEMs – our DroneBase Wind Insights platform and services are available in over 70 countries.
By delivering a flexible, scalable solution to inspect and manage wind assets through cutting-edge drone technology, our customers can make better-informed, real-time decisions about their most critical resources. With drone pilots operating at ground level, our automated data capture significantly cuts down on inspection timeframes and guarantees the safety of people and assets by negating the need for potentially hazardous climbs.
In addition, DroneBase can drastically lower costs by delivering intelligent analytics for high-value infrastructure over the full lifecycle of wind assets.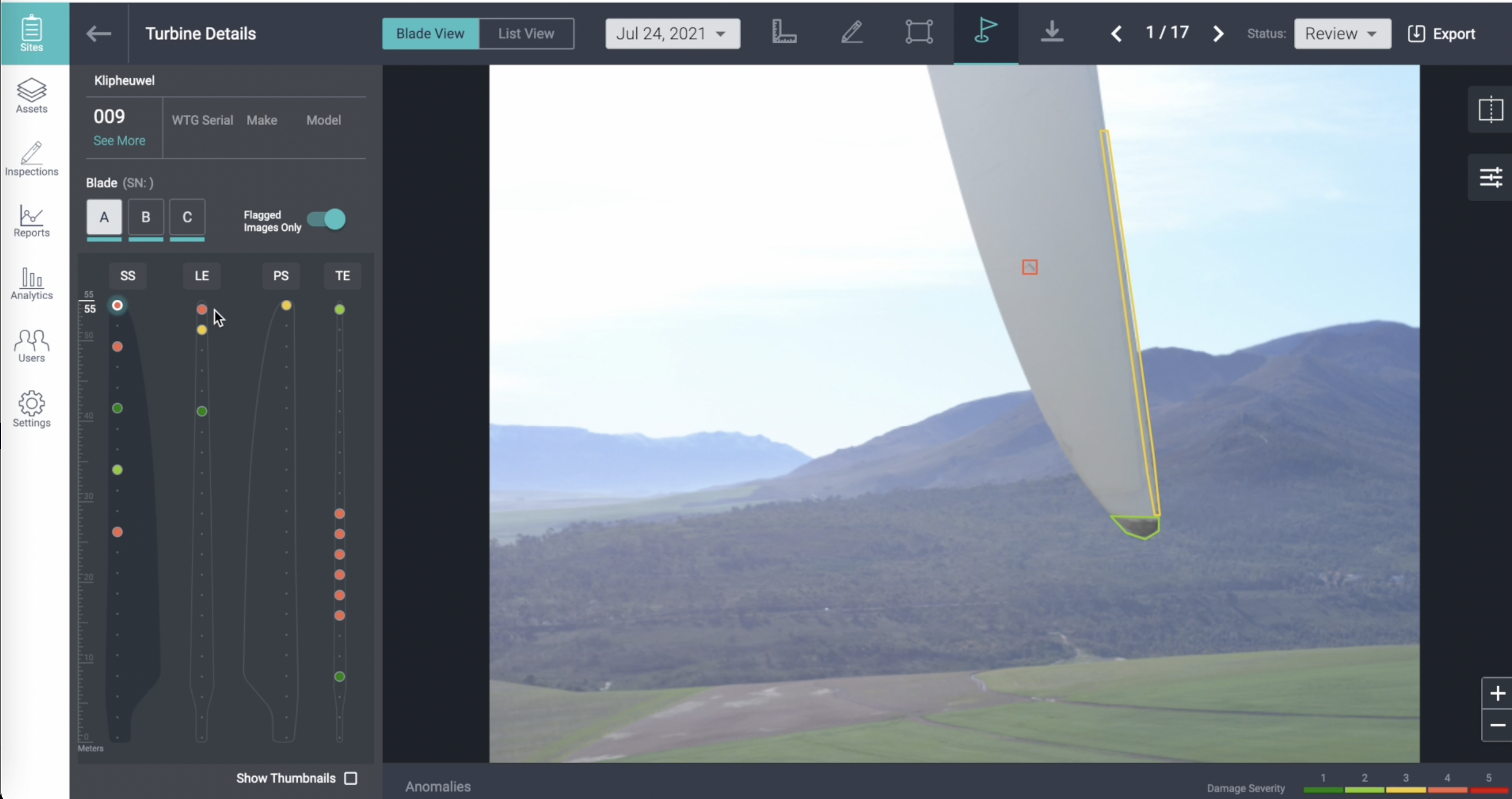 Thanks to a comprehensive, streamlined inspection solution that fuses data collection, processing, collaboration, and reporting, we can create highly structured actionable data in a fraction of the time over traditional manual inspections.
As a result, our DroneBase inspection solutions enable other benefits such as:
Increased efficiency and reliability
Actionable data and insights

Reduced overall costs for wind turbine operations

More effective deployment of personnel

Better safety and risk management

Reduced downtime
More sustainable and eco-friendly business operations
'Smart maintenance' and intelligent asset management systems
As wind power production scales, so does the need to safely inspect blades, schedule maintenance, anticipate failure, and keep assets at maximum efficiency.
Whether you need to monitor the performance of a wind installation, inspect a site for potential warranty claims, or want your investment to perform more efficiently, DroneBase can provide fast, affordable, and reliable data.
Whilst traditional inspections and maintenance solutions are based on a reactive and preventative approach, our 'smart' approach also provides predictive maintenance through AI-assisted anomaly detection. Identifying issues and faults, locating the problem, and allowing you to repair them before they can bring down your equipment.
Our DroneBase insights can also increase visibility and collaboration with:
Hardware-agnostic systems

Automated blade inspections

Streamlined asset management
Flight operations and data capture

Image analysis powered by technology

Individual user management and permissions through our platform
For more information, click here.
Conclusion
In the current landscape of rising costs, aging infrastructure, and an ongoing energy crisis, European O&M firms and wind farm owners can now utilise cutting-edge drones for 'smart maintenance' of their wind assets.
By partnering directly with DroneBase for comprehensive intelligent aerial imagery, data, processing, and reporting solutions, we help to simplify wind turbine inspection and maintenance processes.
Decreasing downtime, avoiding costly repairs or replacements, and reducing your exposure to safety risks.
Ready to learn more?