The DroneBase Client Dashboard is the hub for our customers to manage missions quickly and easily. While our initial re-launch took place a few weeks ago, the DroneBase Team continues to make regular platform updates to make the customer journey even easier. Learn how our newest feature, Reference ID, can help your workflow.
About the Reference ID
Customers can now create a personalized Reference ID to help quickly identify properties within the Client Dashboard. While all Missions are classified by a Mission ID Number (The letters "DBM" followed by a series of numbers), we recognize that many clients may require an easier taxonomy to streamline their workflow. A Reference ID can be used however you see fit. For example, if you work for an insurance company, associating DroneBase Missions with the Claim Number will help streamline your workflow.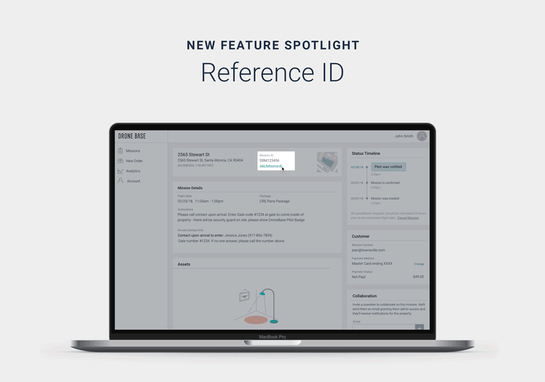 Creating Your Reference ID
Follow these simple steps to create your personalized Reference ID for existing Missions or new Missions.
Adding a Reference ID to an Existing Mission
Locate the "Mission ID" section at the top of your Client Dashboard when viewing a Mission. Click the link below that reads "Add Reference ID", enter in whatever text you'd like, and click "OK".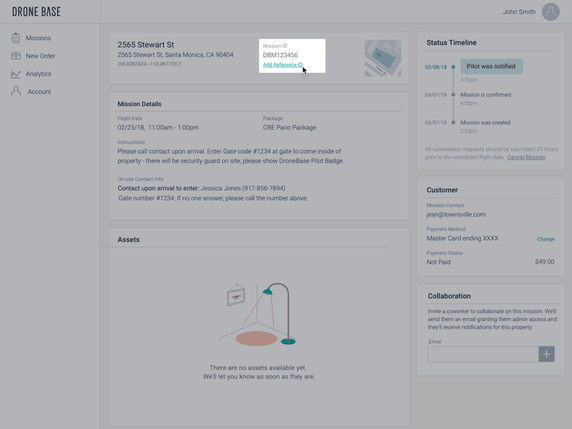 Create a New Mission with Your Reference ID
Once you've started a new order and entered an address, you can enter your Reference ID underneath the map window. Enter any identifying code that will help you sort and manage your orders.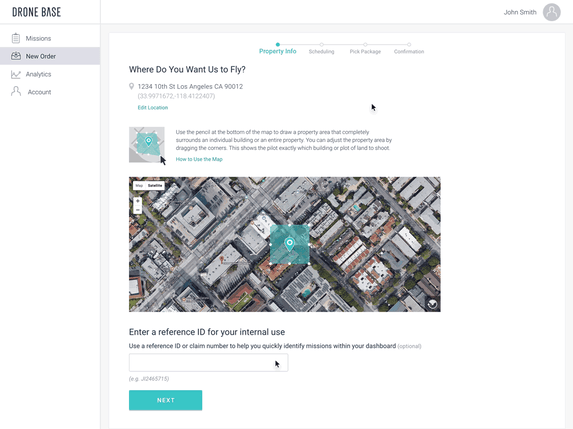 We're committed to making your customer experience the best it can possibly be. Visit our new Client Dashboard today to start using the Reference ID to your advantage. As always, if you have any feedback you'd like to share, feel free to reach out to us at: hello@dronebase.com.