DroneBase is changing the way Telecom companies survey, inspect, and monitor their towers across the country. Using drones for maintenance inspections is the ideal solution to lower costs, increase speed, and improve efficiency. High-definition aerial imagery and 360-degree views of towers and worksites are now available at a fraction of the cost it takes for a traditional human inspection.
Save Money. Save Time. Save Lives.
For the low hundreds of dollars, we can provide full maintenance inspection of a tower. In addition to being cheaper than a manual inspection, drones enhance worker safety by keeping them safely on the ground, or better yet, at their desks. DroneBase enables a desk adjustment solution unlike anything else, serving as a single point of contact for operations across all 50 states. With orders ranging from a single tower to thousands across the country, DroneBase delivers consistent, high-quality imagery and photogrammetry 3D models to our clients.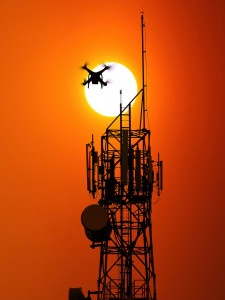 The DroneBase Pilot Network + Technology
Built as an API, the DroneBase platform can ingest thousands of sites at a time, further saving time and increasing efficiency. Moreover, our API can transfer images back to a client's platform. DroneBase's technology clearly enhances speed and productivity, but the strength of our professional Pilot network is what makes us the leading aerial imagery provider nationwide. DroneBase Enterprise Pilots are thoroughly vetted by us, approved to fly for commercial purposes, and trained in telecommunication inspection. We handle all operations including insurance, FAA paperwork, and airspace due diligence.
DroneBase and Telecom Customers Are Moving Onward and Upward
DroneBase is currently working with leading tower companies nationwide to provide visual inspection outputs. We have key partnerships with companies that have many years of experience in the field. We are excited to continue growing our relationships with telecommunications leaders and providing a scalable solution at a fraction of the industry's standard cost and time. Drones are already becoming a key part of inspection solutions for Telecom companies nationwide. As drone technology continues to improve and become more commercialized, the industry will benefit from it.
Be at the cutting edge and drive your business forward with DroneBase.
https://www.youtube.com/watch?v=4QrJZCHZs-0&feature=youtu.be