Yesterday, we released a major update to our iOS app, DroneBase Pilot. When you launch it, you'll notice immediately that there is a new tab called "Fly". The app can now connect to your drone to help you fly. Similar to how you use the DJI Go app, just dock your iPhone or iPad to your drone's controller, open the app, and launch the drone. You'll be able to see the 1st person point-of-view from the drone's camera, shoot photos and videos, and control settings like camera angle.
---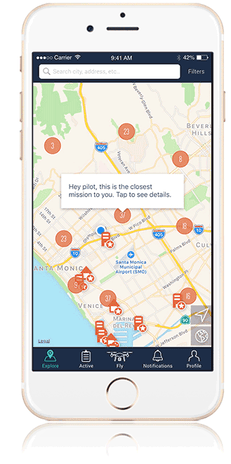 But, what does the app do that you couldn't do before? The real value-add in this update is the new workflow for flying missions. When you select an Active Mission, you'll see a new "Let's Fly" button. All pictures and videos you shoot in this context will automatically be associated with the mission.
Furthermore, the mission shot list is integrated directly into the fly screen so that you can classify each shot as you take it. Just select a shot from the list, shoot all the assets of that type, and go on to the next shot. Each asset is automatically tagged. Then when you're done flying, you can upload all the assets directly from the app. No need to transfer the files to your computer, manually classify each shot, and upload through the web interface anymore.
Our goal, as an engineering team, is to keep drone pilots doing what they love - flying. The more we can streamline the busy work, the administrative stuff like classifying and uploading imagery, the better. Plus, this new capability of connecting to the drone will become a huge focus for us going forward. We will make flying not just more efficient, but leaps and bounds more enjoyable in the months ahead. Stay tuned.