DroneBase Pilot License and Part 107 Guide
(Updated September 23, 2019)
"Drones are helping to create a whole new means of realizing the American dream." - FAA Administrator Michael Huerta
Since the Federal Aviation Administration's (FAA) Part 107 Ruling came into place on August 29th 2016, commercial drone pilots in the US have had to operate under a fresh set of guidelines. The Part 107 Ruling provides the broad framework for commercial flight that was desperately needed, laying out what can and can't be done on a commercial mission. It also introduced the requirement for drone operators to obtain a Remote Pilot Certificate with a small UAS rating.
Do I Need a Drone Pilot License?
If you want to fly your drone on behalf of DroneBase and get paid while doing so, you need to get yourself a license. Once that license has been granted, there are rules in place governing the kind of operations you can undertake.
If you are only flying your drone for fun (formerly Section 336 for "recreational flying"), then you don't need a license. However, there are still rules from the FAA to follow, including registering your drone and following certain safety guidelines.
It may sound like a lot of hoops to jump through, but count yourself lucky. Before Part 107 came into play, things were even more complicated. Using a drone for commercial reasons used to be illegal without a Section 333 exemption from the FAA, and getting one of those was no easy feat. It was a long, often expensive process that kept plenty of skilled pilots grounded for months on end.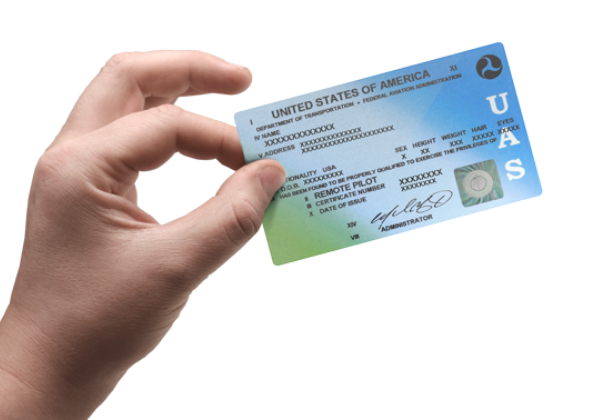 After you've passed the Part 107 test, you'll receive one of these shortly after.
How to Get an FAA Drone License - Requirements
There are seemingly a lot of components to becoming a professional drone pilot, but not to worry - we lay it out clearly to make it as easy as possible to understand. Below are some of the requirements pilots working in the US now have to meet, before commercial flights are undertaken:
Pass the Transportation Security Administration's vetting process
Pass an Unmanned Aircraft General (UAG) exam at one of 690 FAA test centers in the United States
Obtain a Remote Pilot Certificate with a small UAS rating
Pass an aeronautical knowledge test every 2 years
Conduct pre-flight inspections to make sure your drone is safe for operation
Be older than 16 years of age
and during/after commercial flights:
Not operate more than one small unmanned aircraft simultaneously
Fly within the speed and altitude limits set by the FAA
Make available to the FAA (upon request) your drone for inspection or testing, along with any documents required to be kept under the rule
Report any accident to the FAA within 10 days if it results in injury or property damage over $500
Flying Within the Rules
When you're on the ground and watching your flight unfold on the monitor in front of you, it can be easy to lose track of exactly where your drone is located. Under the Part 107 Rule, this is something that pilots can't allow to happen. Restrictions on Beyond Visual Line of Sight slights are now in place unless you have a waiver from the FAA.
Other common-sense rules governing speed and altitude limits, flying under the influence, piloting commercial drones from a moving vehicle, avoiding no-fly zones, pre-flight checks and external loads can be found in the FAA's official Part 107 Summary PDF.
Your Certification and Responsibilities
As we mentioned above, to fly your drone for business reasons you're going to have to gain the Remote Pilot Certificate with a small UAS Rating. If you pass this test you'll move on to the next stage: vetting by the Transportation Security Administration. If that goes smoothly, you'll get your certificate in the mail and be all set to fly.
Want to read the complete 624-page Part 107 Ruling? You're brave. Here it is.
---
How Much Does it Cost to Become a Certified Commercial Pilot?
So what do you need to know about the FAA's Remote Pilot exam? This is essentially an aeronautical test, and will cover more varied ground than you might anticipate. But before we get to that, bear in mind that you'll have to pay $150 to take the test; it's worth studying hard and passing the first time. That said, we have exciting news for potential pilots who are eager to pass their test with flying colors.
We recently partnered with UAV Coach to bring emerging Pilots access to the top Part 107 test prep course available: Ground School.

Drone Pilot Ground School is an online test prep course for commercial drone pilots looking to pass the FAA Aeronautical Knowledge Test for a Remote Pilot Certificate. Get ready to take your Part 107 Aeronautical Knowledge Test at your local FAA testing center with lecture quizzes, 5 full-length practice tests, and more. Ground School has trained over 10,000 pilots to date, and a whopping 99% pass their test on the first try!

Interested in exploring Ground School to accelerate your drone pilot career? Use DRONEBASE50 at checkout to receive $50 OFF your enrollment.
Whether you choose to study via Ground School or another method, you'll need to pass your final test. Even if you're a veteran of drone flight, this is a fairly challenging test. The format of the test is multiple choice, and you'll need to score 70% or more across sixty questions in order to pass. For each question you'll have to choose one out of four possible answers.
As we mentioned above, this is a test you need to take seriously and study hard for if you want to avoid an embarrassing result. This is partly down to the sheer variety of topics you could be tested on.
To give you a taste of what to expect, the topics the FAA outlines in its monster 87-page study guide include:
Applicable regulations relating to small unmanned aircraft system rating privileges, limitations, and flight operation
Airspace classification and operating requirements, and flight restrictions affecting small unmanned aircraft operation
Aviation weather sources and effects of weather on small unmanned aircraft performance
Small unmanned aircraft loading and performance
Emergency procedures
Crew resource management
Radio communication procedures
Determining the performance of small unmanned aircraft
Physiological effects of drugs and alcohol
Aeronautical decision-making and judgment
Airport operations
Maintenance and pre-flight inspection procedures
Once your test is complete you'll face an anxious couple of days while your results are processed. Your final score will be posted on the FAA portal, and you'll be able to apply there and then for your Remote Pilot Certificate if all goes well.
How Long Does it Take to Get Your Drone Pilot License?
After you've applied for your certificate it's now just a matter of time. Your details will be put through background check and vetting process and, if that all goes smoothly, you can print a temporary version of your final certificate. You can use that for official jobs while you wait for the genuine article to arrive.
Planning on flying for the long haul? Remember that the FAA's Remote Pilot Exam is updated periodically, and you'll need to re-pass every 2 years to keep your license valid.
Ready to fly? Sign up, complete your profile, and start getting DroneBase Missions.
---
Remember! You can get $50 OFF your enrollment at Drone Pilot Ground School with the code DRONEBASE50.