If you are a large company looking to get drone imagery for a lot of properties, what do you do?
Say, for example, you're an insurance company trying to process claims for roof damage across the country. Instead of dispatching local inspectors to each location - who have to climb up on rooftops - you want to use drone roof inspection technology. So, you come to DroneBase because it has a huge pilot network and fast turnaround time. However, placing and managing hundreds or thousands of orders through a website can be a daunting task.
Solving this problem has been a high priority for us, and last week we released the DroneBase API for enterprise customers. It is a way for large companies to submit bulk orders directly into our system, and for our system to return the results directly back. By "directly", I mean seamless communication from one server or website to another.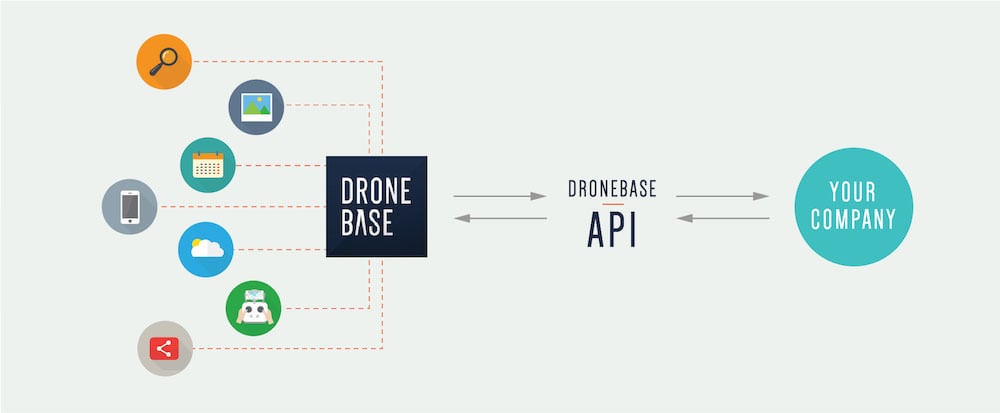 In layman's terms, our API is like a special kind of email address that accepts specially formatted emails. Your IT department can configure your server or website to send "specially formatted" orders to our API "address". It works well for bulk orders in the 100's or 1,000's because once the settings are configured, the computers do all the communicating. Your server tells ours all the places you want drone imagery, and our server returns status updates and the links of completed image and video files. Because the communication is direct from server to server, you can integrate the data directly into your workflow.
In the insurance example, you could plausibly have one inspector who sits in an office, uses your system to request rooftop imagery of a bunch of properties, and clicks submit. Then, still using your system, he looks at the completed imagery and does his inspection. He does this all from his computer, even for large quantities of properties all over the country. No mention of driving to a customer's house and climbing up to the roof!
To get started, contact us to get set up as an enterprise. Or, for the tech savvy, look through our API documentation. Hope this is helpful in increasing the scale and efficiency of our enterprise customers. Thank you for using DroneBase!