We recently introduced our new and improved Client Dashboard, which makes placing and managing orders easier than ever. One of the features we're most excited about is Dashboard Analytics, giving you quick insights into your drone flights like never before.
Accurate reporting and user-friendly charts help our customers see their most valued data points at a glance. The right data helps inform ROI-positive business strategies and empowers professionals to manage their businesses more efficiently. Here are some of the insights gleaned from the new Analytics:
Orders Placed
Total number of orders placed, including in-progress flights, cancellations, and reshoots.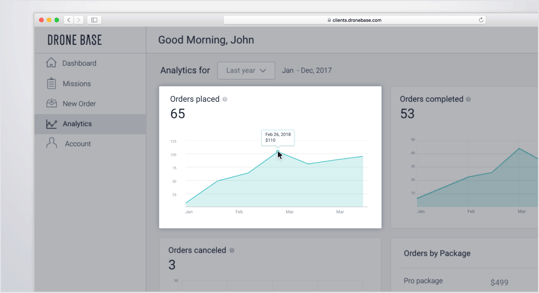 Orders Completed
Total number of orders that have been flown, assets have been uploaded, and are ready for download.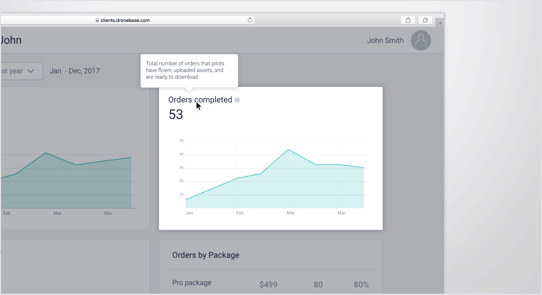 Orders Cancelled
Total number of orders cancelled. Cancellations can be a result of airspace restrictions, prolonged unsafe weather, etc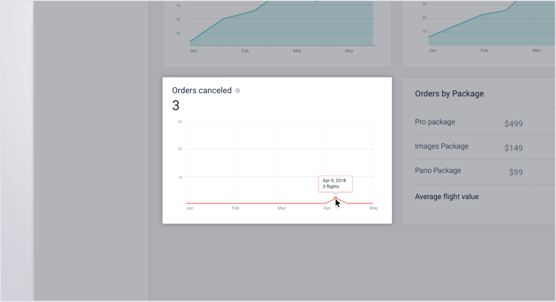 ---
The DroneBase Team is committed to making your customer experience the best it can possibly be. Visit our new Client Dashboard today to check out the new features and place your next order! As always, if you have any feedback you'd like to share, feel free to reach out to us at: hello@dronebase.com.