---
The latest update for the DroneBase Pilot App, Version 4.0, is now available on iOS for you to download. We're excited to introduce you to these new features, all of which have been requested by you, our drone pilots, and will enhance your flying whether it's during or before a Client Mission...
Flight Practice in Fly Mode
Fly Mode is now open to everyone in the DroneBase Pilot App for iOS! Now you can practice your flying in our app and get familiar with the controls before heading to a Mission.
Previously, pilots would need an assigned Client Mission to have access to Fly Mode. Now you'll have access to all features in Fly Mode, except for the shot list feature which is only applicable when executing a DroneBase Mission.
The Fly button has also been redesigned for easier and quicker access. It is now available from the Client Mission list screen in addition to the Mission Details page where it was before.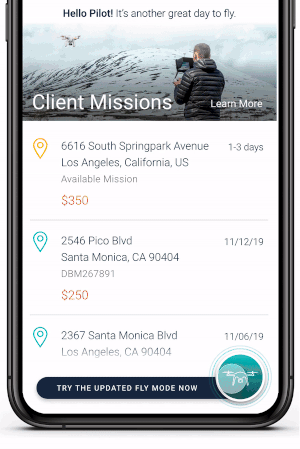 Map View in Fly Mode
We've also added a Map view to your Fly screen, which can be accessed from the bottom left of the Fly screen. You will find that the current implementation of the Map view is quite similar to what is available in DJI GO 4.
However, we don't yet have all of the functions that DJI GO 4 has, such as displaying fly zone restrictions or flight history path. Rest assured, we will be adding these soon in upcoming releases.
In addition to adding features that will bring Map view to parity with DJI GO 4, we'll be adding features that will be specific to aiding with DroneBase Mission execution.
Top Status Indicators
All of the drone status indicators that you would usually find in the top right of the DJI GO 4 app have been added to the DroneBase Pilot App. The status indicators we've added are as follows: GPS signal strength, vision system status, remote controller signal, HD video link signal strength, and battery level.
In addition to the drone status indicators, we have also added the battery level + flight time indicator bar. Although we do not currently support the ability to set your low battery and critically low battery warning thresholds within the DroneBase Pilot App, you will still see the thresholds that you set in DJI GO 4 reflected in the battery level indicator.
Access to Flight Logs
You can now access your DroneBase App flight logs within the app. In this release, you will be able to manually access and download your flight logs. In the upcoming release, we will be adding the ability to link your Airdata account to enable your logs to be automatically uploaded to Airdata.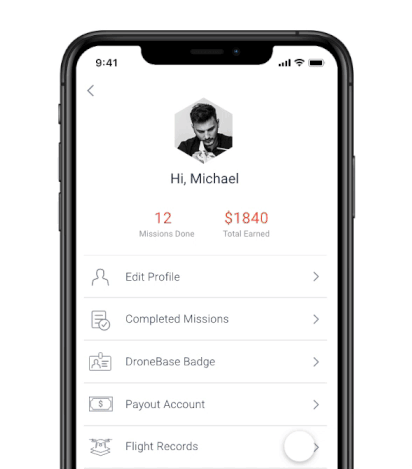 We listen carefully to your feedback, whether it comes to us through surveys, emails, social media, or blog comments. Please let us know what you think of these new features in the comments below and what you'd like to see in upcoming releases!
Make sure to update your app or if you're new to DroneBase, download the Pilot App now for your Apple device.