Are you attending this year's Interdrone Expo & Conference in Las Vegas? Connect with other drone pilots, service providers, UAS engineers & developers, UAV manufacturers, videographers, and enterprise UAV end-users at the largest commercially-dedicated show this September 3 - 6, 2019.
Two members from the DroneBase Team will be taking the stage to share insights and experience from their unique perspectives.
First, make sure to check out Shay Roehm's presentation on "When Gigs Fly: How to Create Employment Harmony and Brand Representation in the Post W-2 World" on Wednesday September 4th 8:30am - 9:30am. Learn more about Shay and receive a discount on conference passes at this link.
Shay is DroneBase's Senior Business Development Specialist of New Technology Innovations. Before joining DroneBase, Shay had worked as Director of Operations for multiple entities which provided the opportunity to explore innovation in many industries, including sensor technology, where she found her passion for UAS use case development. Over the past six years, Shay has focused much of her work on sensor integration and drone project development, including complex transportation asset inspections, urban traffic study, environmental investigation and AEC/survey development. Here's more from Shay about her presentation at Interdrone: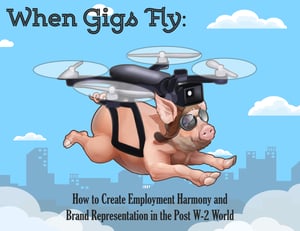 Freelance warriors, independent contractors, seasonal and contingent workers and the trendiest edition to the non-W2 classification - gig employees – together comprise over 30% of the current U.S. workforce. Thanks to this on-demand labor pool, employers and individuals are enjoying elevated offerings of goods and services delivered via non-employees. In addition, these workers generate zero cost for benefits, mileage reimbursement, equipment costs and office space.
In my talk, I will address methods for incentivizing the "gig-stars" who provide stellar, consistent service, encouraging their loyalty, upsell referrals, and valuable promotion of a brand. I will also address how independent pilots in the drone industry can maximize relationships with service partners to propel their business forward, establishing long-term projects that will land them in positive cash flow territory.
Next, watch our Founder & CEO Dan Burton on Thursday September 5th 11:15am - 12:15pm for his talk on "Advanced Sensors in Drones: What comes after the camera?" Here's a preview of what you'll learn:
Accessible aerial imagery and videos have transformed industries from real estate to energy to insurance to construction. But the use cases of drones expand beyond just the camera and into an array of advanced sensors including thermal and light detection and ranging (LiDAR). Today, neither are scalable since a single thermal drone flight today is a $25,000 investment. Just as the democratization of drones and more pilots opened the door for affordable and scalable commercial drone flights, the thermal drone flights of tomorrow will expand use cases and make drones a regular mix of the decision making process. In this session, Dan Burton, CEO and Founder of DroneBase, will provide examples of how advanced sensors will impact energy and infrastructure inspection. The opportunities are limitless.
You can also catch Dan on the "Flying for Insurance Claims" panel featuring an exciting lineup of industry leaders and moderated by Melissa Seloover, the Technology Manager at State Farm Insurance, taking place Friday September 6th 9:00am - 10:00am.
If you're not already registered for the conference, register through this page to receive a $100 discount on all Conference Pass Types. We'll see you there!