In our most recent Pilot Spotlight, we introduced you to Chris Hilton. Chris is a US Navy Veteran and another DroneBase pilot that has completed ITC training at the FLIR Infrared Training Center. Chris shared his previous experience working with cutting-edge sensors, his experience at ITC, and the benefits he sees of thermal imagery in the drone industry. In this article, we will be introducing you to another certified thermographer and DroneBase pilot: Michael Crider.
Michael Crider is a Flight Crew Training Instructor that flies part-time, and has been flying DroneBase Missions for over three years. Michael started with RC aircrafts and began flying dangerous full sized helicopter missions for a utility company for over a decade and sees the potential of drones in this space without the need for risking human lives. Here's more from Michael:
---
How did you first become interested in drones and why did you decide to pursue it as a career?
I started flying RC aircraft in the late 70's. Drones are a natural extension of that. I flew dangerous full sized helicopter missions for a utility company for over a decade. Line patrol, thermal inspections and surveys. Now these missions are starting to be done with drones without risking human lives. I am truly excited to be involved in this new industry that has such amazing potential!
What was your favorite part of the Infrared Training Center?
Great course! I had no idea what I didn't know! I now have confidence that I can interpret the thermal images and generate an accurate report.
What helpful tips can you give to other pilots for Thermal Missions?
Take the course and do your best to become a level 1 thermographer. It is really important in order to understand the finer details of thermal imaging.
What drone do you primarily fly with?
My primary drone has been the Phantom 4 pro but I also have a Mavic as well as a Phantom 4 Advanced. For thermal missions I will use my Inspire 1 pro with the DJI XT camera. I've also built several drones meant to be used for long range flying.
What are your favorite things to shoot?
I enjoy flying roof inspections of all types and am really looking forward to flying commercial building (flat roof) thermal roof inspections.
What was your best piloting experience?
Why back in the old days of quad copters (5 years ago) I built several drones. I got hooked on long range FPV flying. I made several flight that ranged out over 5 miles. I used 400mhz for control and 1.2 ghz for video. Built a great ground station with high gain antennas. It was a sad day for me when thee FAA banned beyond line of sight flying.
Describe your "dream drone"
It unfortunately doesn't exist yet. It will be a vertical takeoff drone that is whisper quiet with a flight endurance of 3 hours. It will be able to withstand power plant or other system failure and still land safely. It will be an FPV (first-person view) flying drone that will be fully autonomous when desired. Maneuverable and fast!
Anything else you'd like us to share?
Just love everything that flys! I have many thousands of hours in jets, helicopters and gliders, now my passion is drone flying. Thank you DroneBase!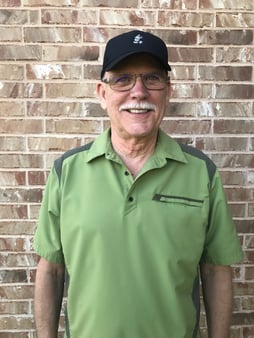 ---
Interested in learning more about getting certified in aerial thermography? Check out the FLIR ITC page to get more information and receive a discount on registration as a DroneBase pilot.