DroneBase is proud to announce a strategic affiliation with RE/MAX, LLC, providing real estate professionals access to drone-captured aerial imagery.
As the largest network of drone pilots in the country, DroneBase offers an innovative solution for agents looking to showcase sweeping views of their properties. Our professional pilots are dedicated to capturing high-quality aerial imagery that will highlight a property's best features and attract potential buyers.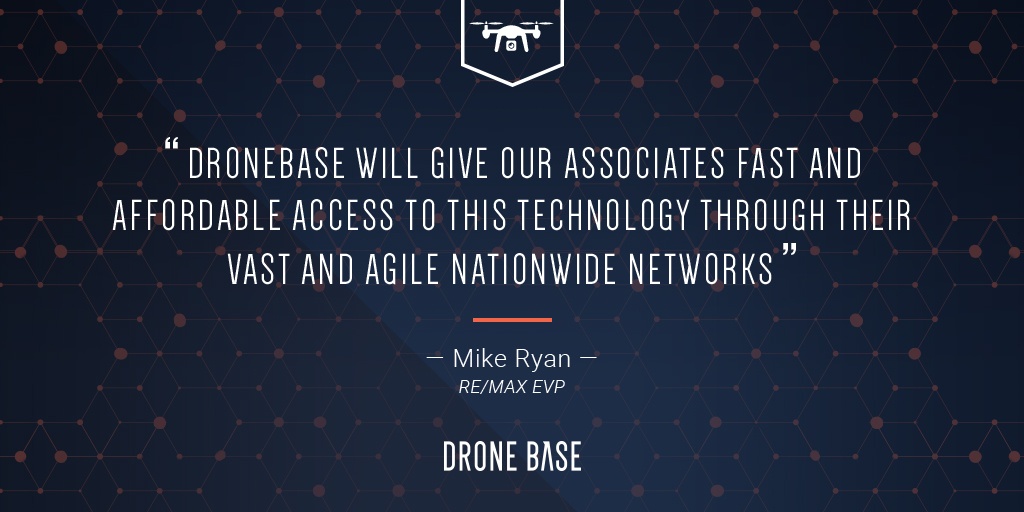 "DroneBase is a welcome addition to the Approved Supplier Program as the only Approved Supplier of aerial imagery services," says RE/MAX Executive Vice President Mike Ryan. "As the leader of drone photography and videography, DroneBase will give our associates fast and affordable access to this technology through their vast and agile nationwide network."
This alliance also aims to solve common frustrations associated with older methods of capturing imagery using planes or helicopters: cost and time. DroneBase is proud to be the only preferred low-cost solution for agents, and because our team manages the entire image collection process, RE/MAX agents are free to focus on winning more listings.
"We believe in the RE/MAX mission of Outstanding Agents, Outstanding Results, and we are excited to help RE/MAX agents bring cutting-edge drone technology to their customers in a way that is compelling, simple, and affordable," says DroneBase CEO Dan Burton.
***
About the RE/MAX Network:
RE/MAX was founded in 1973 by Dave and Gail Liniger, with an innovative, entrepreneurial culture affording its agents and franchisees the flexibility to operate their businesses with great independence. Over 110,000 agents provide RE/MAX a global reach of more than 100 countries and territories. Nobody sells more real estate than RE/MAX, when measured by residential transaction sides. RE/MAX, LLC, one of the world's leading franchisors of real estate brokerage services, is a wholly-owned subsidiary of RMCO, LLC, which is controlled and managed by RE/MAX Holdings, Inc. (NYSE:RMAX). With a passion for the communities in which its agents live and work, RE/MAX is proud to have raised more than $157 million for Children's Miracle Network Hospitals

and other charities. For more information about RE/MAX, to search home listings or find an agent in your community, please visit www.remax.com. For the latest news about RE/MAX, please visit www.remax.com/newsroom.