The drone industry is rapidly growing and evolving as new leaders emerge and companies continue to progress and impress. In the past year alone, the drone industry has witnessed pivotal events that stretched our imaginations and pushed the boundaries - from FAA announcements to Ted Talks and inspiring news stories. As this field continues to grow, some industry leaders have begun to emerge in this competitive field. Below we've highlighted a few companies leading the charge in the drone field; specifically, consumer drones, deliveries, and services.
For the Consumers
There are many developments in the drone space, but only a relatively small number of drones are actually available to consumers. However, these drones are extremely powerful and can capture stunning images or powerful data at the push of a button. With that said, not all consumer drones are made equal.
The best drone you can buy right now, as ranked by MyFirstDrone, is the DJI Phantom 4, and this opinion tends to hold with whomever you ask. Simply put, DJI's Phantom 4 is the most technologically advanced drone you can buy at its price point. Furthermore, DJI is consistently the company providing the best high-quality consumer drones - and it has been for years. The Phantom 3 and 4 are both easy to use yet extremely powerful, and the Inspire is DJI's impressive professional level model. It's estimated that the company had $1 Billion in sales in 2015, and it recently opened the doors to its first two flagship stores.
Following behind is Yuneec and 3DR (3D Robotics). Both companies make impressive drones: the Q500 and Solo, respectively. Though both drones are powerful, they lack various features to top the Phantom 4.
The last industry leader is GoPro, who recently revealed that they have been working on a drone named the Karma. Though no images of the drone itself have been released, GoPro has released a few videos taken from the Karma, and has a landing page. Though Yuneec, 3DR, and even GoPro look to emerge in the consumer drone field, they have a steep challenge ahead in competing with DJI.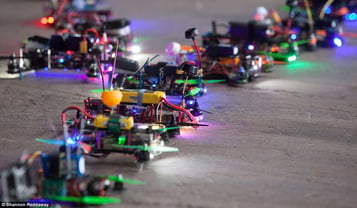 Additionally, consumers in the drone space may be interested in drone racing, a quickly growing sport which mixes elements of eSports with Nascar racing. The most notable company in this space is the Drone Racing League, which has amassed over 8 million dollars in funding and just this February held a race in Sun Life Stadium. The sport is recently starting to come out of its hobbyist origins with some great out-of-the-box racing drones available from TBS and ImmersionRC (the Vendetta and 285 models, respectively).
When drones start delivering
Of course, speaking about leaders in the drone field wouldn't be complete without discussing drone deliveries. The subject has gained much attention since Amazon came out in 2013 with plans to begin developing aircraft and a system for delivering packages with drones. Amazon has been hard at work seeing this become a reality, and it seems to be doing plenty of testing overseas. Reports from Forbes show the company has been testing their delivery system in Canada, the UK, and the Netherlands. Additionally, Amazon has been pouring in millions into lobbying efforts in Washington DC. It's no wonder Amazon is the first name which comes to mind in the drone delivery space.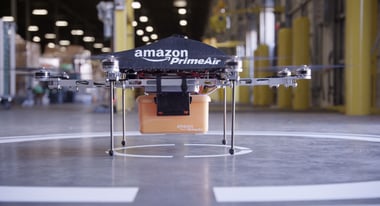 The drone delivery space is not solely dominated by Amazon, however. Google's own Project Wing was recently awarded a patent, it's first public announcement since 2014, perhaps a positive sign that its 2017 release date will hold. Two other companies seem posed to challenge Amazon for the first name in Drone delivery: DHL and Zipline (with some help from UPS). In May, DHL released a drone delivery prototype which uses a hybrid drone/plane to deliver packages between drone ports. Additionally, UPS recently got behind Zipline as partners to further the goal of delivering medical supplies to tough to reach areas - such as Rwanda. There are also countless other companies looking to leverage drone technologies to provide deliveries - whether it be healthcare supplies after natural disasters or ship-to-dock transports.
Pushing the Boundaries of What Drones Can Do
There's much more you can do with drones than take pictures and deliver goods, and there's plenty of companies proving that. One such company is Mapbox, which helps to build out more robust data and mapping from data recorded on drone flights. Another is AirMap, which provides low altitude airspace management tools, used by the likes of DJI, 3D Robotics, and Yuneec, to name a few.
Another major company making strides in the drone industry is Intel, who sees drones as a huge source of opportunity for the company. Intel has invested $60 million into Yuneec, whom we mentioned earlier in this post. Additionally, the company put on a 100 drone light show in Palm Springs, which it was able to do so only with an exemption by the FAA. The exemption was granted after Intel performed a similar feat in Germany, which it highlighted during CES '16.
Conclusion
The drone industry is certainly varied and there are plenty of leading companies doing awesome work. From deliveries, consumer drones, to even multi-drone light shows, there are plenty of developments happening in the space. For services in commercial or residential real estate, construction, and hospitality reach out to us at DroneBase for high-quality aerial video and images across the globe.