Flying a drone can be an exhilarating experience. Of course, it can be a productive one as well - especially when flying with DroneBase. If you are using your drone to capture aerial photos and videos, particularly for commercial purposes, you need to make sure that the operation is both safe and reliable. Whether you're a rookie with his first drone or a seasoned DroneBase veteran, this pre-flight check list will help ensure you're ready to fly!
Pre-Flight Concerns
Check your drone battery charge.
A number of steps can help you make sure that your drone flight will be successful. Among the first should be making sure that your drone's batteries are charged, and that you have backups just in case. You should also avoid overcharging, which can lead to reduced battery life over time.
Check for potential equipment damage
Next, check your drone for damage that could lead to problems once airborne. Your propellers especially need to be in good operating condition. Also, the drone's camera and gimbal system need to be flat and it is vital to a mission's success that they are working properly.
Check the current and anticipated weather
In addition, a weather check should be part of your regular pre-flight preparation. Simply relying on the current weather to predict the future is not enough; instead, inform yourself about the forecast and be prepared for sudden (and unpredictable) weather changes. It's also a good idea to make sure camera settings are correct and ensure the exposure and saturation are optimized for the conditions.
Check your available file storage
Don't forget your microSD card! If you use your drone for aerial photography or videography, make sure enough storage is available to record the footage you need. You wouldn't want to take off, only to realize that you don't have the space available to take images or record video.
Setting Up For the Flight
Determine ideal starting and landing spots
Any successful drone flight depends on making sure that the terrain is fit for your endeavor. Start by determining a starting and landing spot that allows you to operate your drone without barriers or dangers such as telephone wires or trees. Don't forget to make sure your GPS is working properly and your lat/long is set.
Ensure a strong signal from drone to controller
Of course, you also don't want to lose the connection to your drone while in air. One way to avoid that is to simply check whether the signal you send from your controller to the aircraft is strong. Your solution for any issues may be as simple as pairing your drone with your controller.
Scout the space you're about to shoot
Scouting and planning out your flight can also help to ensure success. Walk around the space you're about to shoot to make sure that you know the best angles to capture, along with potential barriers that could impede your flight. If you're on a DroneBase Mission, you'll have a flight plan as a guide to capture the best of a property or area of land.
Inform others of your project
Finally, make sure that everyone in the area knows a drone is about to take flight. You should always aim to maintain control of your area, helping to keep others out of harm's way and ensure a safe flight.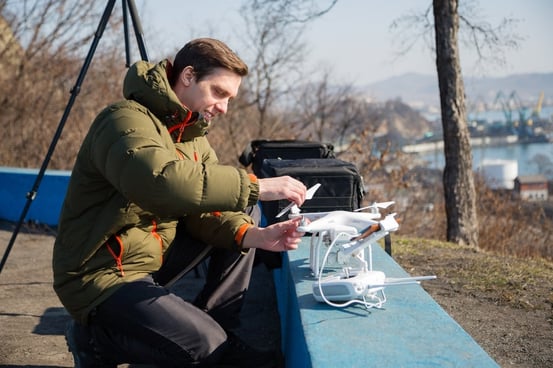 Staying Secure While In Flight
A number of steps can help you make sure that your drone flight is both safe and successful:
Always keep your drone within your line of sight.

Keep an eye on your battery life to land safely before power runs out.

Adjust your camera settings if needed to capture the best possible footage.

Avoid flying near people and objects that could damage your drone, or vice versa.
Flying a drone well takes practice to develop the skills required. Of course, it will take time to accomplish all of the above at the same time. Try to develop a regular routine that allows you to go through your checks without losing sight of the drone itself.
Finally, consider taking note of all images and videos that you capture while in flight. If you can record both the time and place you took them, you can more easily refer back to them in the future. If you are taking panorama images, record the beginning of the sequence so you can more easily piece them together after the flight. Here's a useful article and video on successfully taking panoramic images.
Post-Flight Considerations
Check for post-flight damage
After your flight, it's time to go through a final set of checks to make sure that you and your drone are ready for the next trip. First, make sure that your drone was not damaged during the flight. Even if you did not see a specific incident, this part is crucial. Try to check your propellers, camera, and gimbal system.
Ensure proper capturing of footage
In addition, try to ensure that all of your photos and images were captured as intended. If you wait until you get back to your home or studio, you risk discovering a malfunction too late and need another trip back to the site. If you check all footage directly after your flight, on the other hand, you can determine the success of your flight immediately.
Back up your footage
Finally, it's a good idea to upload your photos and videos to a safe location after your flight. You don't want to risk losing them, and taking this step directly after your flight will make it easier for you to know (and label) exactly what you captured. You can decide to move your footage to a hard drive, or move it to a cloud-based solution (such as the DroneBase platform) that allows for more universal access.
Using these checks, you can ensure that each flight will be successful. Especially if you are looking to turn your drone piloting into a career, reliability is key. Going through the above steps before, during, and after your flight can help you optimize each flight for success and client satisfaction.
DroneBase connects drone pilots with jobs across the country. Signing up as a pilot is free and easy, and gives you access to training videos and shot lists to quickly get you up to speed. Check out DroneBase.com/pilots for more information.